Sitting here in our new offices in the heart of Kent, converted from an old Oast house that was designed for kilning (drying) hops, I can't help but think that current situation in the brewing world rings of irony. Whilst pub closures continue at the incredible rate of 29 per week in the UK and the two largest companies in the industry are being merged into one (Anheuser-Busch Inbev & Sab Miller), a renaissance is taking place at the grass roots level. Craft brewing of beers and ciders is rapidly increasing in popularity and the number of brewers in the UK has now returned to levels not seen for 70 years; but why?
Firstly, in 2002 Gordon Brown (God bless his little tartan socks) introduced Progressive Beer Duty, giving tax relief to brewers below a certain size and sowing the seeds of a revolution. Not long afterwards independent brewers started to hear of amazing new beers coming from the USA, of all places. Now we all know that America is the land of ice cold, flavourless fizzy-pop masquerading as beer, a market dominated by just three brands and promoted, weirdly enough, by short, over-muscled Belgians. Local craft brewers, initially in and around New York, said enough is enough and set about reinventing the industry. Forgotten beer recipes were dusted-off and reinvigorated by modern brewing techniques. Word soon spread about these wonderful new craft beers with flavours no-one had tasted before and so the revolution soon spread to this country.
The new wave of UK brewing pioneers initially imported hops from USA to flavour their new beers, just at the time when farmers here in Kent were grubbing-up the remnants of their hop gardens. Just imagine that in the 1870s there were 46,600 acres of hops under cultivation in Kent and this fell to as little as 1,000 acres in 2011.
The micro brewing revolution has well and truly taken-off here in the UK and is now turning mainstream. Britannia, P&O's latest cruise liner was launched at the beginning of this year and their catering management team decided that UK craft beers should be stocked on board as part of the launch festivities. Cavendish Ships Stores was delighted to be selected to supply the beers, giving P&O a fantastic choice from the 81 breweries we currently work with. After very lengthy product testing 56 different beers were chosen for the launch. These have proven to be such an instant hit with customers that about a dozen of the most popular have been selected for roll-out across the fleet.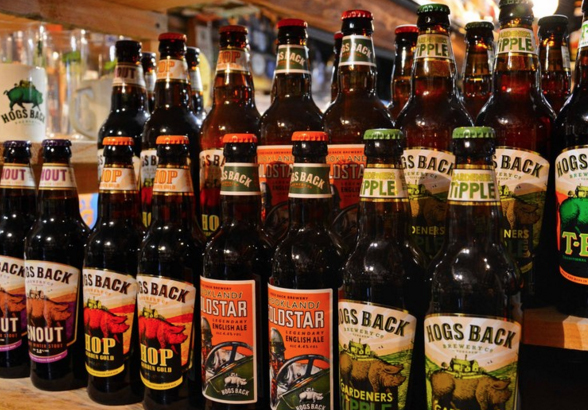 And the revolution is spreading to ciders, spirits and wines. We currently have 13 specialist suppliers of ciders and 6 specialist suppliers of wines and spirits. The latest trends are for flavoured gins and vodkas, especially with real fruit flavourings; vanilla flavoured gin was recently featured on The Great British Menu. With the internet rapidly spreading the word and crowdfunding being used to help small brewers finance their activities, this a very dynamic and exciting sector.
At Cavendish we aim to help our customers keep abreast of the latest developments in this fast changing industry and to have the latest products available to sample. Get in touch if you are looking for a company capable of fulfilling your needs, or indeed, if you are a supplier and have a high quality product that could benefit our customers.